Edmonton's best places for German food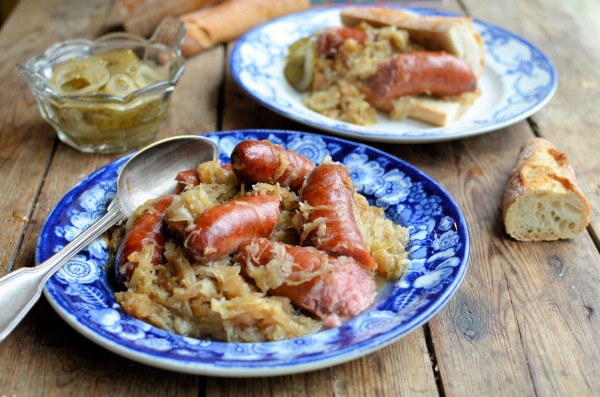 It's a shame to wait for Oktoberfest to enjoy fine German cuisine when Edmonton has some great German eateries just waiting for you to discover.
As identified by Avenue Magazine in Edmonton, here are five great German restaurants in the Capital city.
Otto Food and Drink
This time of year, patrons will want to visit this establishment when the big garage doors are wide open for Happy Hour.  Otto's is known for sausage and beer and fills up quickly after 5:00 pm.  The sausages are very gourmet – above and beyond your typical bratwurst.  Get them with a side of garlic fries which apparently are outstanding and of course, you're sure to get some sauerkraut and mustard. The other dishes at Otto are inspired by other European neighbours with a taste of Holland, North Africa with some chorizo sausage thrown in for good measure.  Otto Food and Drink is at 11405 – 95 Street.
Red Star
Ask for the Erdinger Dunkel and say it in your best Colonel Klink accent.  This wheat beer will come to your table in a tall, elongated glass – you might think it's a Coke or iced tea because it's so dark but it's anything but.  It was developed in 1989 by Erdinger by someone who was looking to provide a gift for the owner of the brewery.  It was too good not to share.  An excellent selection of cured meat along with pasta dishes and fancy salads. Lagers, ales, fruit beers and some of the hard stuff is also on the menu.  Red Star is at 10534 Jasper Avenue.
K & K Foodliner
This German institution has been around for quite a few years, known primarily for German cold cuts and weisswurst, a deli sausage concocted from veal and bacon.  They're small, stubby looking and white and they pack some great flavour.  Over the 60-plus years that the Krause family has operated this location, they have offered imported food right from the old country.  Cold cuts and beer go with sports so make sure you shop before you head home.  They have a great selection of home-style soups and frozen entrees made on the spot. Since 1956, the K & K Foodliner has been located at 9944 – 82 Avenue.
German Canadian Cultural Association
It's a community centre with banquet rooms and meeting facilities, but did you know there's a German restaurant on the premises?  It's open Tuesday through Saturday with a varied German menu, the highlight of which is German meat loaf and cheese spaetzli, which Google will tell you are soft egg noodles that are sort of dumpling-ish.  In fact, the menu is in German first, with English subtitles.  Here's another sample:  Red wine marinated pot roast with braised red cabbage.  Doesn't that make you want to pick up the phone and call your friends to meet you there. The German Canadian Cultural Association is at 8310 Roper Road.
Haus Falkenstein
The owners of this authentic fave started out in Lougheed, AB where the schnitzel house was very popular.  The moved it to Edmonton along with all of their different schnitzel varieties – so many, in fact, that Haus Falkenstein is a world-record holder.  Unlike many restaurants, even in their homeland, they refuse to deep fry their schnitzel.  It's fresh, hand-pounded and hand-breaded and fried on the stove top in canola oil. They are quick to point out that eating German-style is not to be rushed.  The bill won't come as soon as you've finished your meal and you must ask for it so they know that you're done. Haus Falkenstein is located at 15215 – 111 Avenue and is only open Wednesday to Sunday from 4:00 pm to 9:00 pm. Reservations are highly recommended.
Leave a Comment